The Blog
This blog will be my unique perspective, ideas, and tutorials on topics related to software development, reverse engineering, hacking, and technology. I'll occasionally stray into topics such as science, intelligence, and education, and talk about my experiences running a company, writing a book, and speaking at conferences.
The Author
I'm Nick Cano, a self-taught software engineer and hacker. I started coding when I was 11 and was hacking games by the time I was 14. By the time I was 15, I had coded the seeds of software which would eventually become deeply rooted in my life; this was my first business, XenoBot, a company based around software of the same name which was capable of autonomously playing an MMORPG called Tibia.
XenoBot bootstrapped my career, and in the decade since it started, I've racked up a ton of experience. I spent three years as a Senior Security Engineer at a virtualization-based endpoint security startup called Bromium, where I had the pleasure of working with the world's leading virtualization experts while I designed and implemented their event-based malware detection platform. In early 2017, I left Bromium to become a Senior Security Architect at Cylance, an endpoint security startup brining machine learning and artificial intelligence to the protection, detection, and response world.
Along the way, I've had the honor of speaking at some of the best conferences in the world: DEFCON 25, HOPE X, Hacker Halted 2015, and multiple years at DerbyCon.
The community of cons has been integral to my career, opening up many doors for me. One of the biggest opportunities lead to my authoring Game Hacking: Developing Autonomous Bots for Online Games for No Starch Press.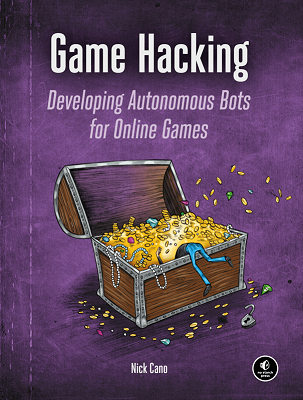 I've also published many small open-source projects such as XenoScan and The Packer Attacker, and I sometimes manage to do some of my spare time coding on livestream.
All-in-all, I'd categorize myself as a software engineer with specializations in Windows' internals, applications security, game architecture, and artificial intelligence (logical, search, and planning). I have a passion for software, technology, and learning, as well as a hankering to solve some of the world's big problems.